Before you start buying bitcoin, it is important to understand why you want to buy bitcoin!! Everyone has different reasons to buy bitcoin:
To make money
To become independent
As an investment – short term and long term
Hedge against inflation
Save in the new form of money
And many more reasons.
Further, you may also have questions like:
How to buy bitcoin in Dubai?
Which wallet is best in UAE to store bitcoin?
Is bitcoin legal in Dubai?
Can you use Coinbase in UAE?
How to sell bitcoin in Dubai?
And many more questions…
---
Bitcoin is a decentralized cryptocurrency. It started in 2008 from a white paper

written by Satoshi Nakamoto. Bitcoin runs on a technology known as the Blockchain. There will only ever be 21 million Bitcoins and this is what makes them valuable and scarce.
Bitcoins are created by a process known as mining. Since there are no banks or middlemen, transactions are verified by miners, and when miners verify a certain number of transactions they can actually earn Bitcoin. There are many cryptocurrencies now, but Bitcoin is seen as the first.
Other popular ones are Ethereum, Solana, Polkadot etc.
Bitcoin is stored in locations known as wallets. These Bitcoin wallets can be online, on a hardware device, on a piece of paper, or even memorized in your brain.
---
Like in any other investment, it is of utmost importance for you to understand what bitcoin is. You should not invest in something because I said so or someone famous personality said so. Because you are responsible for your money and investments.
Watch the following videos to understand what bitcoin is:
If you have a basic understanding of Bitcoin, you could also learn about what a Blockchain is. The following video explains this:
---
How to buy bitcoin or how to get bitcoin?
There are 3 ways you can get Bitcoin:
Being a Miner. You install mining machines and as a reward for being a miner, you are rewarded mining rewards. (6.25 bitcoin at the time of writing)
Buying Bitcoin through a crypto exchange.
Selling stuff for bitcoin on your e-commerce store.
---
In this tutorial, I will cover how to buy bitcoin.
There has been a strong demand for Bitcoin in the Middle East, especially in Dubai. Bitcoins can be purchased through organizations called the Exchanges. If you live in Dubai, you could use any of the Bitcoin exchanges.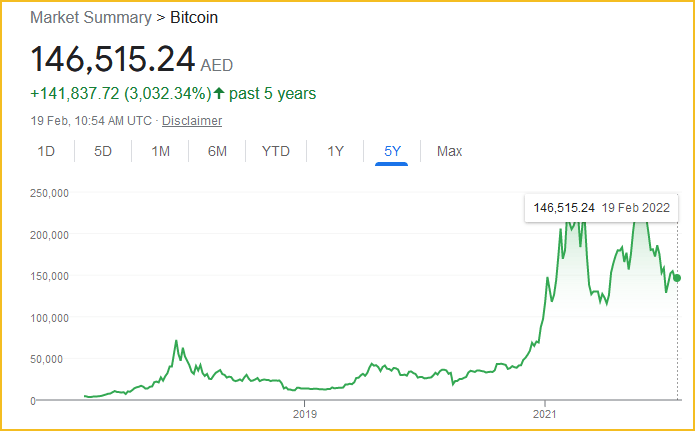 Although bitcoin seems volatile, Over a period of 4 years, no one has lost any money buying bitcoin. The key here is to understand 'long term investment.'
Top Dubai and Middle East Exchanges:
BitOasis
CoinMENA
Rain
Top International crypto exchanges:
---
Detailed Video Guide on buying bitcoin and cryptocurrencies on BitOasis:
BitOasis is one of the oldest and largest cryptocurrency agencies in the Middle East. BitOasis has now obtained a license from ADGM in Abu Dhabi and FSRA.


---
Detailed Video Tutorial on buying bitcoin and cryptos on Rain.bh:
Rain.bh which is based in Bahrain has obtained its approval from the Central Bank of Bahrain to operate a crypto exchange.
---
Detailed Tutorial on buying bitcoin and cryptos from Binance:
Binance is the world's leading crypto exchange. Although I had some difficulty transferring fiat currency to Binance, they work well with Credit cards and transfer of other cryptos.
---
Bitcoin FAQ
How to buy bitcoin in Dubai?
Following crypto exchanges are the best if you are looking to buy bitcoin in Dubai:
---
Which Wallet the best to store bitcoin in UAE?
There are several types of wallets where you could save your bitcoin.
Mobile wallet
Desktop wallet
Hardware wallet
Brain wallet
Note that taking custody of your bitcoin is of utmost importance. The philosophy behind bitcoin is that of self custody. If you do not own the private keys to your bitcoin, you actually do not own the bitcoin.
Suppose you buy bitcoin on an exchange and the exchange gets hacked, you will lose all your bitcoin. Hence, it is important for you to transfer all your bitcoin to your personal wallet.
---
Here are some of the top bitcoin wallets I recommend:
#MOBILE WALLETS and DESKTOP WALLETS
Read the following post from Investopedia on bitcoin wallets.

#Hardware Wallets
I recommend: Trezor bitcoin wallet

#Brain Wallet
A brain wallet is nothing but memorizing your bitcoin private address in your brain. I do not recommend this method.
---
Can I use Coinbase in UAE?
Coinbase is perhaps the most well-known cryptocurrency exchange in the world. Coinbase is currently not available for UAE and Saudi users.
In the middle east, Coinbase

is available in the following countries:
---
How to sell bitcoin in Dubai?
I created a tutorial for you on how to sell bitcoin in Dubai.
---
I will update this article as and when I have more information.
---