Al Etihad Credit Bureau (AECB) – What, How & Why
Al Etihad Credit Bureau(AECB) is backed by Federal Government of UAE. It was established as the official credit reporting provider across all the emirates of the UAE. The initial plans were drawn by Ministry of Finance in 2009, in order to improve the financial structure of the UAE and help Banks and Finance Companies better assess the risks they take in lending. The operations of the AECB started in the Quarter 1 of 2014. AECB is the mandated legal body to collect and collate individual and commercial credit information and historical data from various financial institutions, utility companies and government sources.
AECB has the capability to produce comprehensive and consolidated credit reports on individuals and companies which includes payment historical data and credit scores for individuals and companies.
What are the long term objectives of AECB?
The credit bureau has strategic aim to create a comprehensive, nation-wide credit reporting system, and improve the transparency of borrowing which will benefit both borrowers and lenders;
AECB aims to provide a consolidated view of credit standing of UAE residents which will enable you to practice a responsible debt management, lowering the number of defaults and bounced cheque incidents;
AECB aims to limit credit risk at a National level by assisting the lenders take informed and accurate credit decisions;
AECB aims to stimulate the credit environment that will offer a competitive price advantage to residents and businesses which have a great credit score.
Gone are the days  that you could apply for credit cards with 15 banks and get away with it. I feel this is the best thing that has happened to UAE financial sector.
What are the benefits to you as a consumer??
Credit bureau assigns you a credit score which indicates your credit worthiness for banks and finance companies. Banks will not lend you if your credit score is not within their threshold of risk;
If you have a good credit score, you could bargain for best rates with the lenders;
AECB tracks your identity and reduces the possibilities of identity theft;
If you have been maintaining good credit score, banks will be happy to lend to you providing you access to capital;
By having such a mechanism, it discourages you from going on a debt driven consumption.
What are the benefits to the banks and finance companies?
The uses of credit report by banks is obvious:
Credit reports help banks make quick and accurate decision;
It allows banks to evaluate risks more accurately and implement risk based pricing;
AECB also tracks customer behaviour patterns with non banking data which in turn helps banks make informed decisions;
It ultimately leads to lower default rates for banks.
How does AECB work?
AECB works as a credit data aggregator; meaning, AECB collects data from banks and financial institutions, collates them and assigns particular score which is indicative of your credit worthiness.
There are 5 parties involved in the entire transaction that is handled by AECB:
Data Providers

Banks;
Financial Institutions;
Insurers;
Telecom Companies;
Utility service companies;
Public Sector/Government agencies;
Retailers

Credit Bureaus
Users (Banks, Financial institutes, You and me)
Data Subjects (You and me)
How does the process of data gathering and interaction with AECB work?
The below image summarises how the data collection is done, who validates and collates the data and Report generation is done.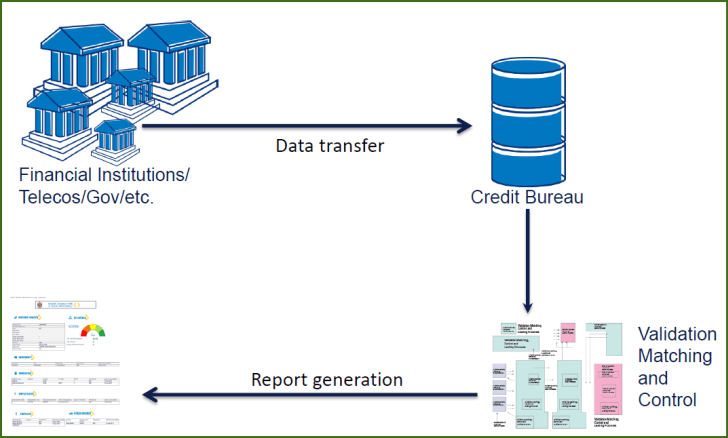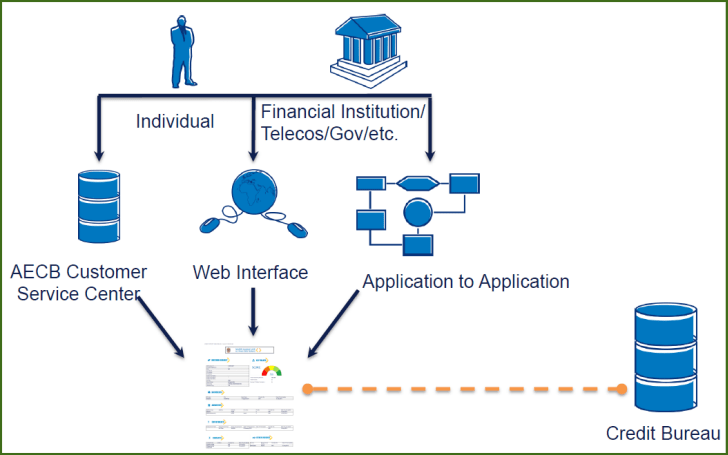 Can I obtain anybody's Credit Report?
No, not at all. AECB is very particular about data privacy and data protection. Your credit report will only be accessible by the authorised employees within the credit bureau. Only you have the right to request the credit report.
Banks can also request your credit report after you have agreed that they can request for your credit report in WRITING. This means in any personal loan, car loan, credit card application, you could see a column mentioning that you have agreed to let bank request a copy of your credit report. Banks can not share this information with others.
Types of Credit Reports
Currently the UAE credit bureau produces 4 types of reports:
Short Reports;
Long Reports;
Long with Scores;
Scores only.
I have been able to get my credit report and below you will be able to see it. I have requested a Long Report to have a comprehensive data on me. I was more curious to know whether the credit bureau has complete information about me.
How to request your Credit Report?
For Banks and Financial Institutes, it is easy to obtain credit report as they have to log in to AECB systems online.
For individuals like you and me, online facility is not available as of now. You have  to physically visit the AECB offices in either Dubai or ABu Dhabi.
Location of AECB Dubai Office:
25th Floor, Rolex Tower, Sheikh Zayed Road, Dubai
AECB Abu Dhabi Office Location Map:
Emirates Real Estate Building, 8th Floor, Al Falah Street, Abu Dhabi
Customer Service timings:
Sunday to Thursday: 8AM to 2PM; Saturday: 8:30AM to 12:30PM
Phone: 600 566662
How to obtain your Credit Report?
You can obtain your credit report in person during the customer service timings from the offices of AECB. By the year end 2015, the credit report is expected to be available online as per news reports on The National.

Documents required for individuals to obtain Credit Report:
Original Emirates ID of the Applicant;
Passport Copy of the Applicant; (Tip: if you have renewed your passport after you came to UAE, it is better to take the previous passport copy as well as the data on your previous card will also be available)
Credit Report Request form.
Documents required for obtaining credit report for your Company:
If the company owner or authorised signatory is going in person, take the following documents:
In case of Authorisation, please take the following documents:
Copy of a valid Emirates ID of owner or Authorised signatory;
Trade License copy of the company;
Articles of Association of  the company;
Original Emirates ID of the authorised person to collect credit report;
Original Power of Attorney notorised, acceptable to AECB or Authorisation letter to include authentication of company owner's or authorised signatory's signature verified by a bank in UAE.
Duly filled Credit Report requisition form.
Sample Company Credit Report can be accessed at the following link: Company Credit Report Sample

What are the costs of Credit Report:
How to understand your UAE Credit Report?
Report numbering key
CB Subject ID: Your unique identification number at Al Etihad Credit Bureau.
Score: Your credit score – a number determining your overall creditworthiness (coming in phase 4 of the AECB credit reporting).
Total outstanding balance: The total of all your liabilities, with all credit providers, that are outstanding.
Total overdue: The total of all late and missed payments for all credit facilities, for all contracts, with all credit providers.
No. default contracts: The total number of contracts where you have gone overdue by more than 90 days.
Documents: Identification information i.e. passport number or Emirates ID
Contracts: The summary of the number of credit facilities requested – active, rejected and closed.
Financial summary: A summary of all active contracts belonging to or related to you.
Credit Report Sample – My Credit Report
I visited the AECB offices in Dubai and obtained my Credit Report and below is how it looks. I have also explained the various aspects of the Report. Please note that the Scores are currently not available on Credit Report. The scores will be implemented in the mid 2016 as confirmed by one of the staff at AECB.
Total Outstanding Balance: This is the total of all the Credit Cards, Personal Loans, Car Loans or any other loans you have on your name with all the banks and financial institutions in UAE.
Employment Details: Your recorded employment details you provided to the bank where your salary is being credited.
Your Contact details: Your email address and phone number.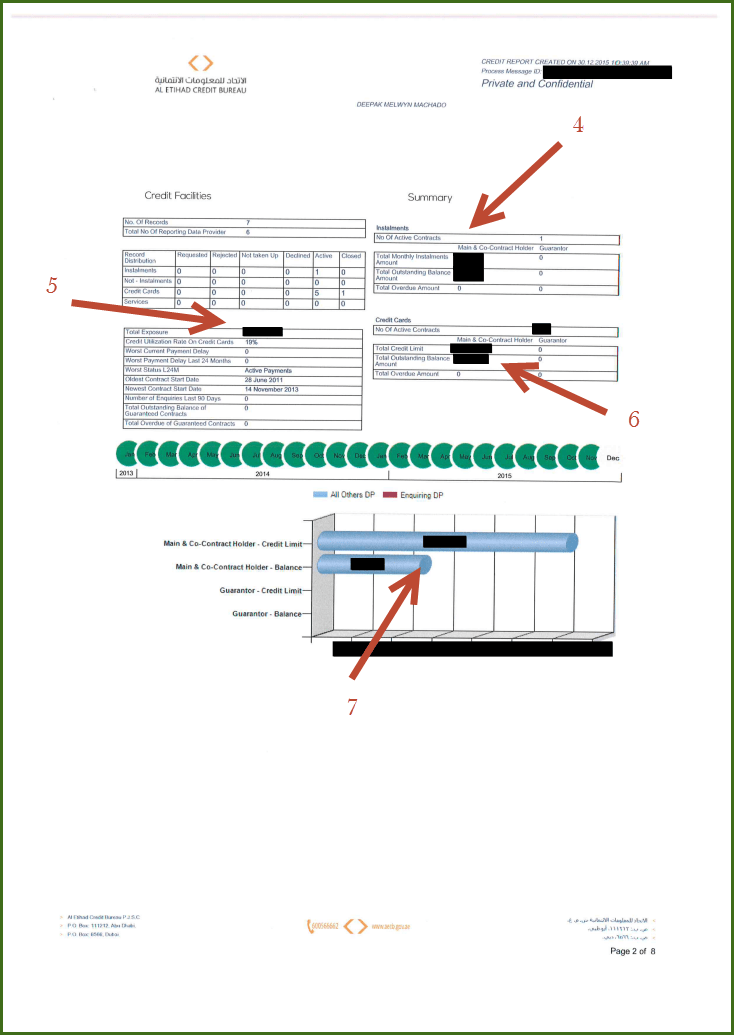 4. Summary of your borrowings banks: In this section, you will be able to find your total monthly installments with all the banks. It lists your number of personal loans and installments.
5. Total Exposure: Your total exposure with the Bank
6. Credit Cards: Here number of your credit cards relations are listed meaning, how many credit cards do you have with all the banks in UAE.
7. Total and remaining balance: Here you will be able to see your total borrowings and what is remaining to repaid.
8. Total outstanding Balance percentage wise
9. Credit Facilities Details: This section onwards your credit report will detail about each of your lending relations separately.
10. Information on your current personal loan details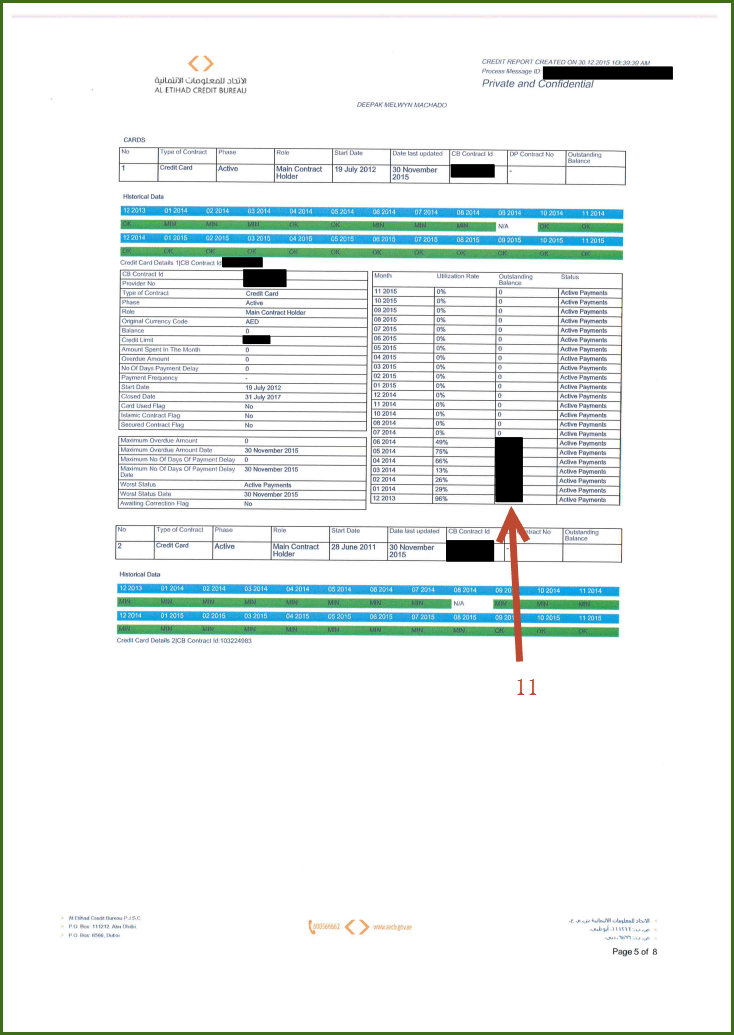 11. Credit Card Cycle: This section shows about your credit card repayment history. The Green indicates that your credit history is impeccable.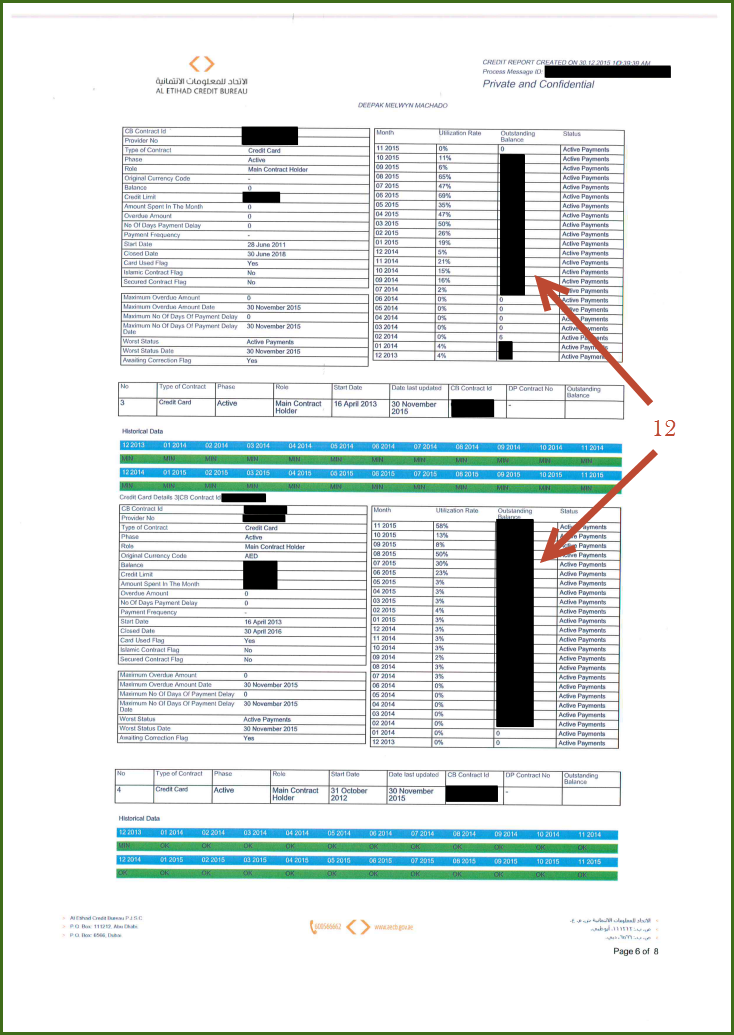 12. Credit Card Repayment: All Green color indicates good repayment history.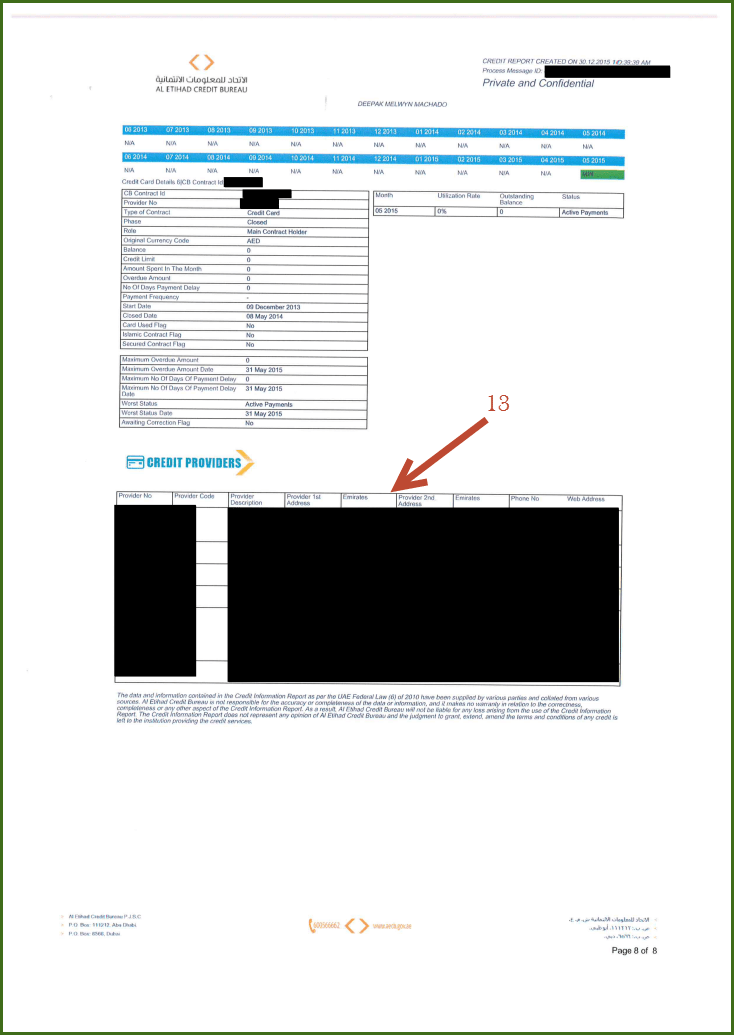 13. Credit Providers: This section lists your list of banks and their addresses who have provided loans and credit cards to you.
How to improve your Credit Score in AECB Credit Report?
With the introduction of credit bureau, the Authorities aim to streamline the credit markets. With incessant growth in debt driven economy, it is all the more important for the Authorities to take prudent steps. However, if you have led a debt driven life coupled with a bad credit history, your access to capital now will be restricted as banks and financial institutions rely on credit scores provided by AECB. However, there are few ways in which you could repair, maintain or increase your credit score:
Don't delay on payments;
Keep track of your bills and payments;
If you find errors in your Credit Report or Credit Card statement, let the AECB know;
Have and maintain credit card and maintain history;
Don't reach the limit of Credit Cards month on month;
Close unused Credit Cards over a period of time;
Don't apply for many cards at once.
I hope this article has enhanced your knowledge on UAE Credit Bureau. You must carefully go through your Credit Report and report any data inconsistencies that may be there in the report. If you have too many credit cards which you do not use, it is also better to reduce the limits of these cards as these will be calculated in case you apply for any new loan and you may not be eligible for the new loan.
If you have any doubts or clarifications, do let me know through comments below.
_________________________
Now you can view your Credit Score!!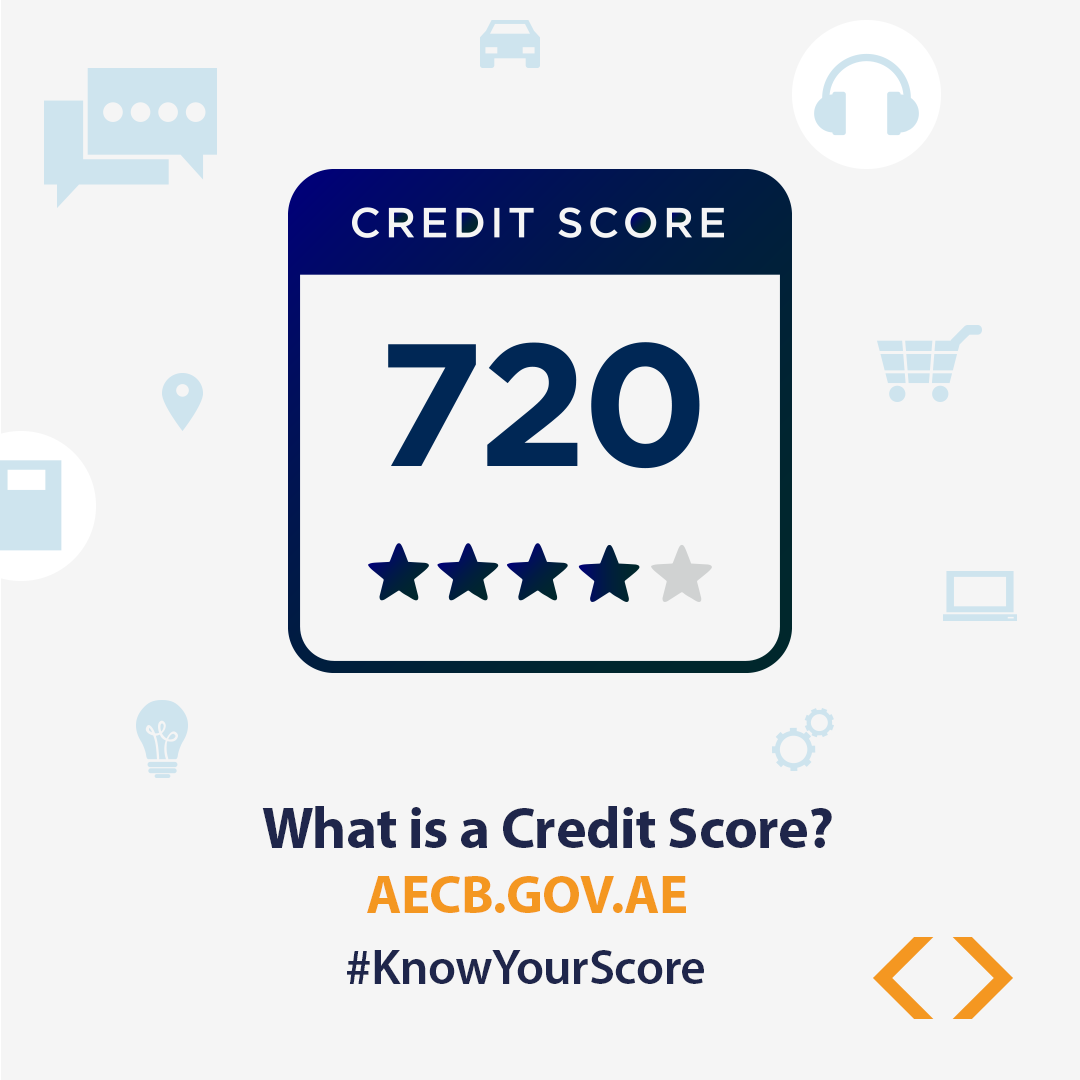 Al Etihad Credit Bureau (AECB) has begun to issue Credit Scores to UAE citizens and residents.
Individuals can now obtain their Credit Scores by visiting the Bureau's customer service centers in Abu Dhabi and Dubai, providing their original valid Emirates ID Card and Passport(s).
"The launch of the Credit Score is in line with AECB's ongoing commitment to adopt the highest international standards in credit reporting and enhancing the UAE financial infrastructure," said Marwan Ahmad Lutfi, CEO of AECB.
The Credit Score is a three digit number that ranges from 300 to 900 and measures how likely aconsumer is to default within 12 months. It is calculated using information from various sources, likebanks, finance companies and telecom companies. The Score changes according to credit payment behavior; a low score indicates a higher risk whereas a higher score indicates a lower risk.
International best practice shows that a high Credit Score can give borrowers more negotiating power when applying for a loan or a credit card. Moreover, it often entails lower premium for insurance,better payment terms with Landlords and enhanced benefits with Telecommunication Companies andUtilities.
To date, 59 Financial Institutions and Telecommunication Companies have provided their customers' credit data to the Bureau and 64 Institutions have subscribed to AECB's credit reporting services.
AECB began issuing Credit Reports in 2014. Credit Reports include personal identity information, details of credit cards, loans and other credit facilities, along with payment and bounced cheque history.
For more information on how to get your Credit Score and what it means, please visit AECB.GOV.AE
_____________________________
Al Etihad Credit Bureau begins to issue Commercial Credit Scores in the UAE.
Al Etihad Credit Bureau (AECB) has begun to issue Commercial Credit Scores to businesses in the UAE. Companies can now obtain their Credit Scores by visiting the Bureau's customer service centers in Abu Dhabi and Dubai, providing documents as specified on the AECB website.
The Credit Score ranges from 300 to 900 and measures how likely an organization is to default within the next 12 months. The Commercial Credit Score is calculated using information from various sources, like banks, finance companies and telecom companies.
According to Marwan Ahmad Lutfi, CEO of Al Etihad Credit Bureau: "The launch of the Commercial Credit Score will help banks and other commercial lenders to assess the risk from the time of application throughout the entire lending relationship".
According to international best practices, a good Commercial Credit Score assists small and medium enterprises in accessing the credit market because the analytic and predictive score indicates the likelihood of future default and the effectiveness of current management.
For more information on how to get your Commercial Credit Score and what it means, please visit AECB.GOV.AE