Making money with Bayt.com….is this even possible?
One of the primary themes of this blog is to empower my readers and users on how to make money! If you live in UAE, I am sure there is that one motto you have, "to make more money." While many despise talking anything related to money, let me tell you one thing, there is nobody who hates money!! The very reason that you are reading this may be because, you want to make money….more money…and I respect that thought. And this blog is dedicated to you. I will teach you ways in which you can make money online which you always wanted to make.
Till I started blogging, I had no idea that internet is such an enabler that with some skill and dedication, I could earn some extra money through internet. And in a series of articles and posts here, I will teach you exactly how I make money online and you can too.
One of the reasons I landed up in UAE was for a job! And what's the one thing I did first….?? I registered with this job site called BAYT.com

. It is one of the very popular job sites here in UAE. Yes, they curate job openings and maintain your profile and help you get visibility in the job market through your job profile on their site?
But did you know that you could make money through Bayt.com?? Exactly how?? Continue reading…
You see, there are many ways to acquire customers for a business like advertising, banner ads, paper ads, radio ads, TV commercials and so on. While these are effective, they are also expensive! There is one form of marketing that is very cost effective and it is called Affiliate marketing. Bayt.com offers its affiliate marketing program for whosever interested. All you need to do is to sign up for the program, let people register with your affiliate links and if they get converted, you will make some money on each successful conversion.
Step by step guide to making money with Bayt.com:
Video Tutorial:
1.  Register for an affiliate account:
First thing that you should do is to sign up for an affiliate account.
CLICK HERE TO REGISTER >>

Once you have found this link, click on it to Register for Bayt.com affiliate program

:
[junkie-alert style="yellow"] IMPORTANT TIP: If you have registered as a jobseeker with Bayt.com, my recommendation would be to use a different email address while registering for affiliate account just to keep things separate! [/junkie-alert]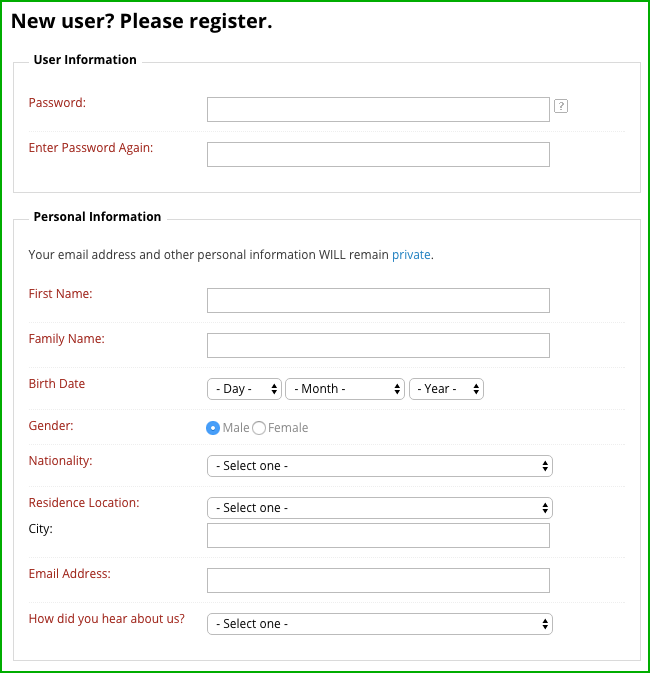 2. Confirm Email address:
Once you are done with this screen, you will be presented with another screen which will ask you to confirm your email address: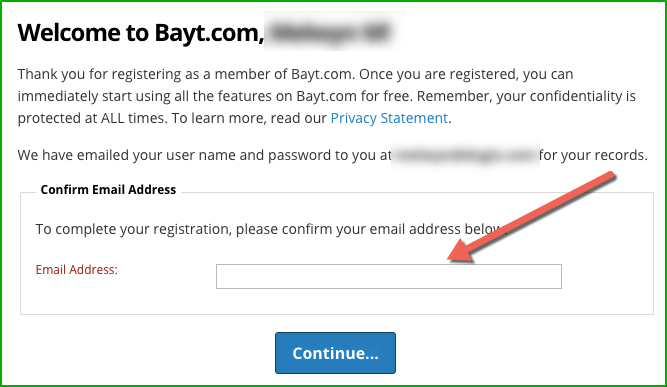 3. Operating Agreement:
Click on YES, I agree: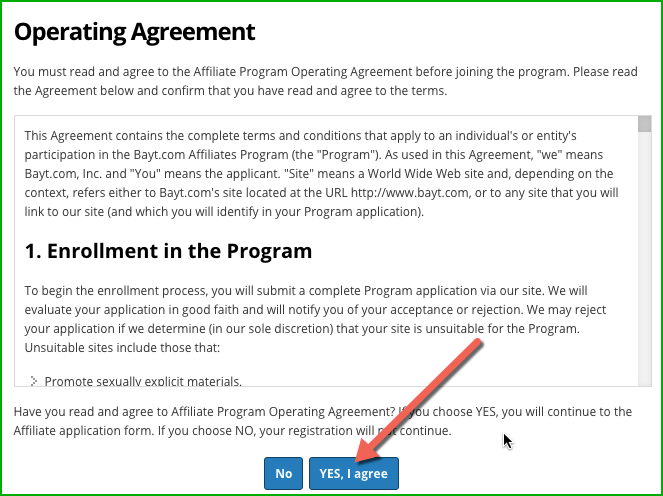 4. Affiliate Program Application:
On this page you will need to provide details like your Account Name, Website (blog), Years of experience as Affiliate and so on. This is done in the interest of Bayt.com so that they acquire only quality affiliates. When I started my affiliate journey with Bayt.com, I had my blog, emiratesdiary.com. You can set up your blog and can provide that information here.
Further information is sought on your experience with other affiliate marketing and so one. To be frank, I did not have much experience with affiliate marketing. I went ahead and signed up with them and was approved. You will need to show a genuine interest in working with them here.
At last, the most important information as to where should Bayt.com send you your earnings must be provided (Woohooo!)
5. Email confirmation of submission:
Once you are done with this, you will receive an email, which basically says that your application is under process and you will be notified of approval soon.
OK. That's it with the Registration process.
6. Approval Email from Bayt:
After you have received the Approval of your account, you will be notified through an email or simply, you will be able to login to your Bayt.com affiliate account.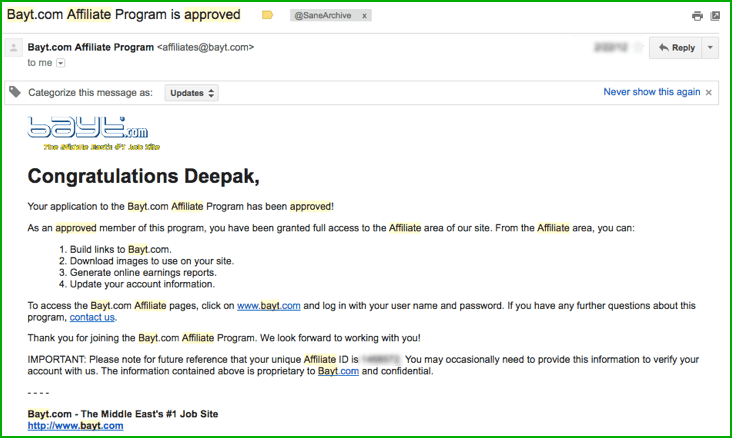 That's it!! Once you have received your approval for the Bayt.com affiliate account, it is time to login and promote Bayt.com through your unique link.
Some Do's and Don'ts of Bayt.com Affiliate Program:
DO's
You can use the linking options we provide freely on your websites and social network pages.
You can include information to help people register and upload their CVs on your website, after taking Bayt.com's written 

approval

on the content.
You can re-register if you have other websites that are fully fit for the program.
You can make promotional campaigns using social networks like Google+, Facebook, etc., to promote for

Bayt

.com, after taking written

approval

on the content.
You can consultBayt.com with  any other mailers/content linking options you would like to use so they can assist in ensuring you fully abide by the program's guidelines.
DON'Ts
Outside of the standard

Affiliate

linking options,

Bayt

.com name/logo cannot be used on your website or on any promotional material including emails, banners, print etc. without prior

approval

from

Bayt

.com.
Don't submit any Jobseekers' CVs yourself, every Jobseeker should register and upload the CV strictly himself/herself.
Don't apply to the

Bayt

.com

Affiliate

Program using a website that you don't own.
Don't address yourself as a

Bayt

.com employee.
Under no circumstances are

Affiliates

permitted to promote

Bayt

.com, either directly or indirectly through doorway pages, on advertising platforms such as Google AdWords, Facebook Ads, Bing Ads, or other advertising platforms that would compete directly with

Bayt

.com's own advertising initiatives on these platforms.

Affiliates

found engaging in such activities may have their

Affiliate

Accounts promptly terminated and their earnings withheld.
So here are the clear rules. Abide by them!
"How much can I earn with Bayt.com?"
Now you may ask the question, "How much do you think I can earn with Bayt.com affiliate?" The potential of this program is unlimited; however, it entirely depends on your ability to promote the program in your social circle and blogs. There are 2 ways for you to earn here:
Referring Job seekers;
Referring companies 
Basically, when a CV is completed using your affiliate link by a job seeker, you will earn money as below: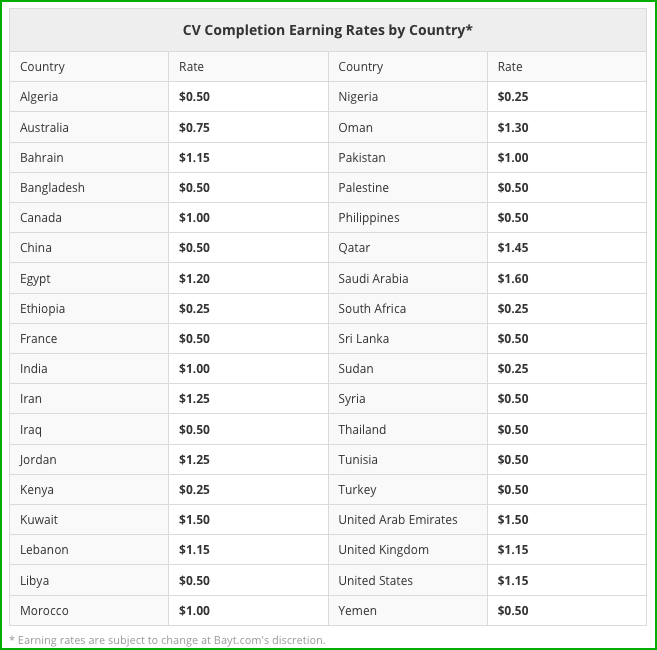 You will see that not all countries are covered in this!
When you refer a company or employer, who then sign up for Bayt.com services, you will earn as below:

"When will I get paid?"
When your earnings reach $200, you will get paid automatically to your bank account within 30 days from end of the month.
How can I promote Bayt.com affiliate program?
Bayt.com provides various ways in which you can promote this program:
Full Branded Page
Rotating Banner Advertisement
Jobs widget
Direct links
If you have seen my blog, emiratesdiary.com, I have implemented few of the above types. Visit, full branded page

and job widget on the homepage.

How do I promote Bayt?
On my blog, emiratesdiary.com, I have written various articles related to Jobs, Job Sites in which I provide my strategies and tips to finds jobs. I have included my affiliate links within the articles. Since these articles are really valuable, when someone reads the articles and clicks on the links to register at Bayt.com, I end up making money through the registrations.
Another strategy I adopt is to promote the Bayt links

to my email subscribers who have submitted their CVs to Emirates Diary. As a sequential email, I send them emails on various topics and one of the topics is Bayt.com. This earns me commissions whenever somebody registers using my affiliate link.
Social media is another platform I use to promote my affiliate links.
Before I had my blog, I used to send email to my friends to register with Bayt through my affiliate links.
Exclusive tips for you to promote your Affiliate account:
I believe by now you'd have registered your Affiliate account with Bayt.com and you are ready to promote it to your friends and family. Here are few tricks that you can use to get maximum earnings:
Use the direct link option and select a link and send it to all your friends through email. (One more trick is to use URL shortener like bit.ly to shorten the links)
Send a message to your Facebook friends, WhatsApp group where it will add value.
By doing this you are not only helping others, you are also making some money.
How much do I earn?
Well, as of now, I am not allowed to reveal this figure to you. But what I can reveal is that the earnings from Bayt.com covers some of my expenses like website server, email marketing and so on. Whatever the earnings, any money coming in as part of efforts is welcome.
Disclaimer: This post contains affiliate links.